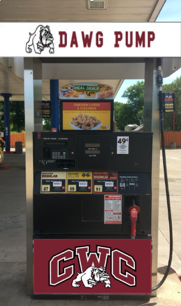 Help Huck's "Fuel" support to Carmi-White County Schools
Jarrod Newell
Wednesday, January 15, 2020
Help Huck's "Fuel" support to Carmi-White County Schools
Huck's is excited to announce the launch of their new Spirit Fuel Pump in Carmi.
In support of Carmi-White County Schools The "Dawg Pump" is set up and ready for your business.
What is the Dawg Pump?
The Dawg Pump Program is a way for Huck's to give back to the local community of Carmi.
For every gallon sold at this dedicated pump, 3 cents a gallon is being donated directly back to Carmi- White County Schools. No questions asked!
Fueling Change in Our Communities
We at Huck's Convenience stores are committed to improving our communities in the areas that we operate. Whether it be helping meet high expectations for our customers, raising the bar for other businesses, or generating shared value for society, Huck's wants to be a true community partner in fueling change.
We hope you will help spread the word and visit the spirit pump in helping support the future of our youth and the Carmi-White County School System.